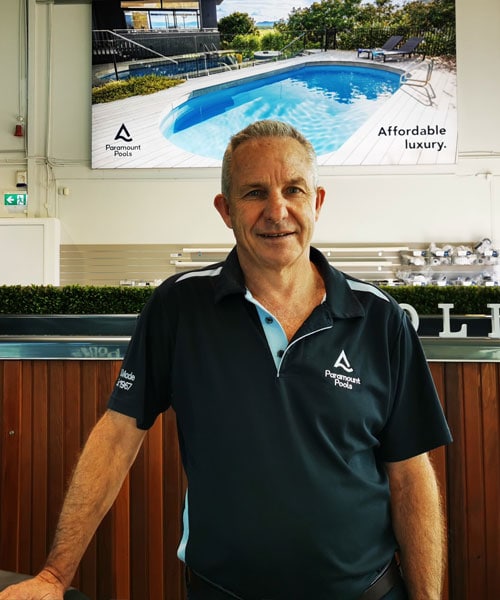 Craig acquired the business in 2018 jointly with co-owner and Director Vince. 
A newcomer to the pool industry, after 30 years in the corporate world working with mainly multinationals, much of it overseas developing and growing NZ business interests.
When not working, Craig loves spending time with his family and is a keen supporter of all NZ sporting teams.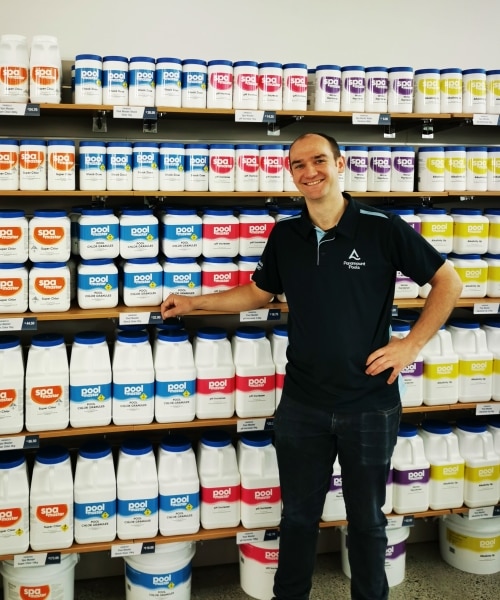 GENERAL MANAGER - POOLQUIP
Jack is General Manager who assumes direct responsibility for the operation of the Poolquip business-including supply chain, administration, distribution, warehousing and export sales, as well as working closely with the Directors on business development initiatives.
A proud Cantabrian and Crusaders fan, Jack originally joined our Christchurch based team after completing his postgraduate Chemistry degree in 2013. Jack has wide experience in system design and general engineering, as well as equipment service and installation.
When he's not at work, Jack enjoys working on his own design projects, as well as enjoying life in his adopted city of Auckland.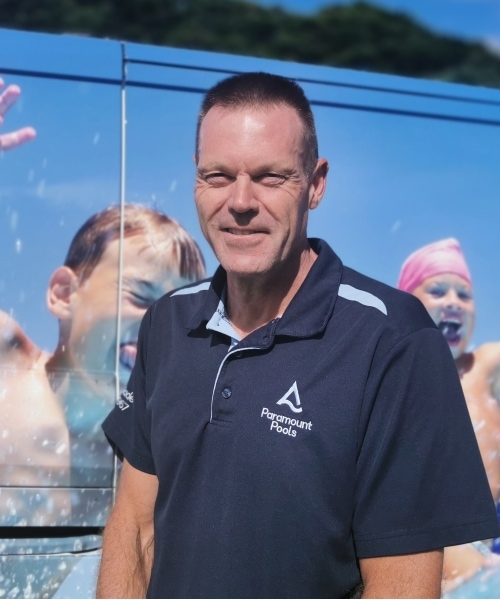 Jason has over 6 years in the pool industry with a broad range of skills including pool installations, maintenance and servicing, training, education, and sales. Jason project manages all our pool installations in the Auckland region, and so is usually the first point of contact for new pool enquiries.
A mad cyclist in his spare time.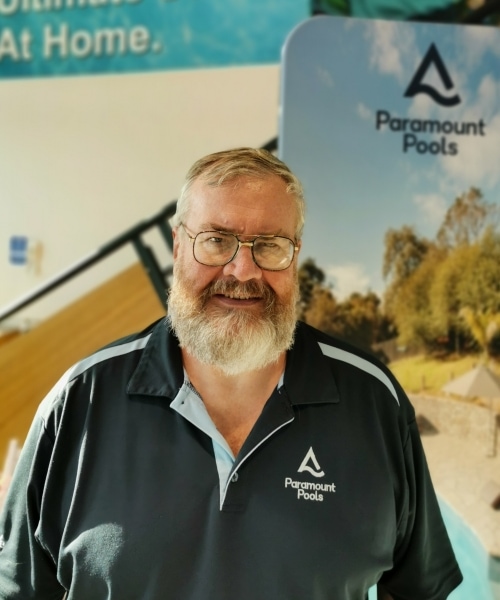 Mark has over twenty years in depth experience in the pool industry in a variety of roles. Mark looks after our Head Office retail store and acts as a technical advisor to our retail and trade customer base.
A keen follower of the New Zealand cricket team.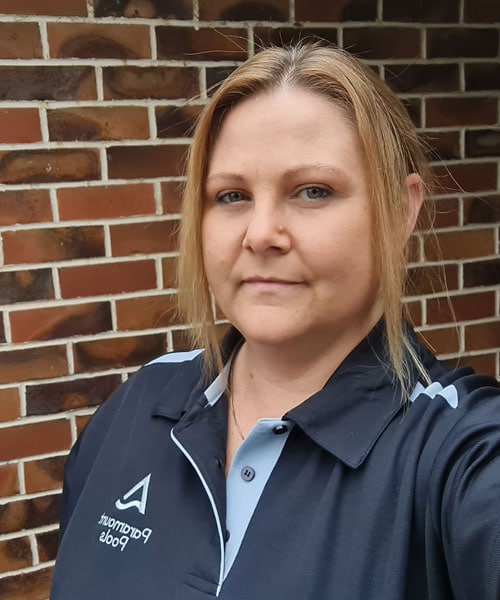 Laura joined our team in 2020 as Sales Administrator. She is the friendly voice on the phone when you ring us.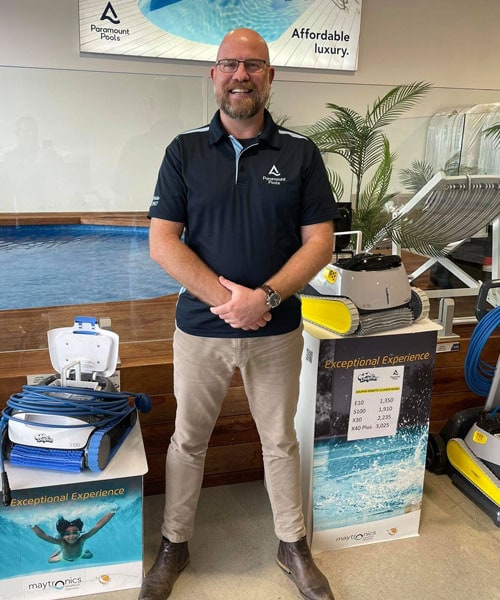 BRANCH MANAGER - TAURANGA
Brendon joined us in 2019, as inaugural Branch Manager of Paramount's newest store in Tauranga. He has over 20 years' experience in front line sales ranging from Mercedes-Benz cars to Elevated Work Platforms to print and on-line advertising, including 10 years in the concrete pool industry in Australia which taught him a lot in regards to construction and maintenance.
He is a seasoned sales professional who has achieved outstanding results over the years.
A keen follower of Rugby, Cricket, Sailing and loves the beach.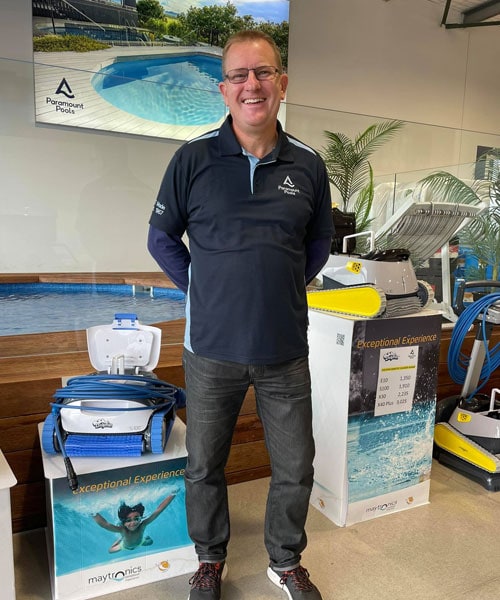 Duncan arrived in New Zealand 17 years ago having lived previously in the UK for 39 years.
Having spent 16 years in the NZ consultancy business managing a number of engineering and project management teams it was time to move on and try a new career as a pool professional.
Duncan takes a keen interest in anything engineering and really enjoys the people aspect of the job. In Duncan's spare time he plays guitar and enjoys the NZ outside life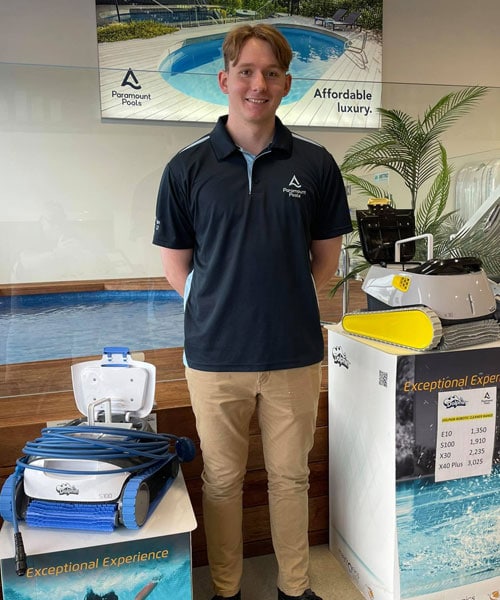 My name is Ben, I am currently a year 13 at Tauranga Boys' College. I am in the extension program and have completed my NCEA level 3 study so am completing university papers to give me a head start into next year.
I will be travelling to Christchurch next year to start a Bachelor of Engineering with Honours looking at specialising in either mechatronics or aerospace engineering.
In my spare time I like to go to the gym or swim to stay fit as well as hanging out with friends or relaxing at home on my computer.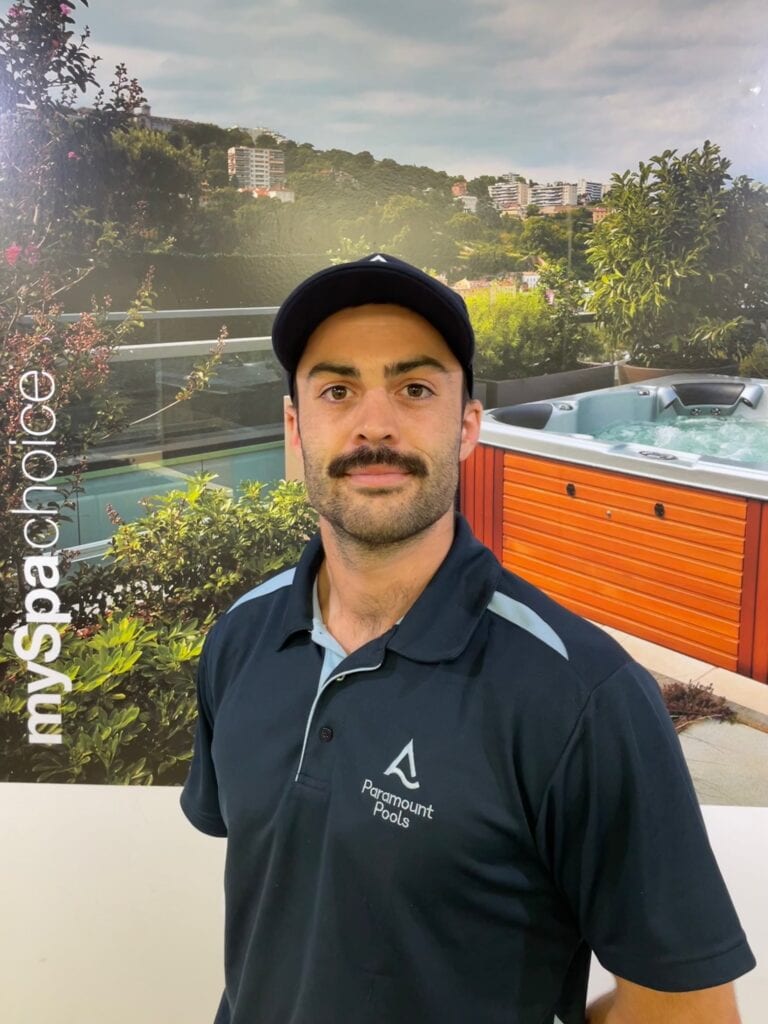 BRANCH MANAGER - TAKAPUNA
Gary is a country boy from the Waikato who after cutting his teeth at the Tauranga store, has migrated up to the big smoke to look after our Trade customers in Auckland and Northland. He also looks after our social media.
With a big personality and willingness to learn Gary has become a key member of the team.
Out of work Gary can be found on the Rugby field, in the surf, or with a beer on the Golf course.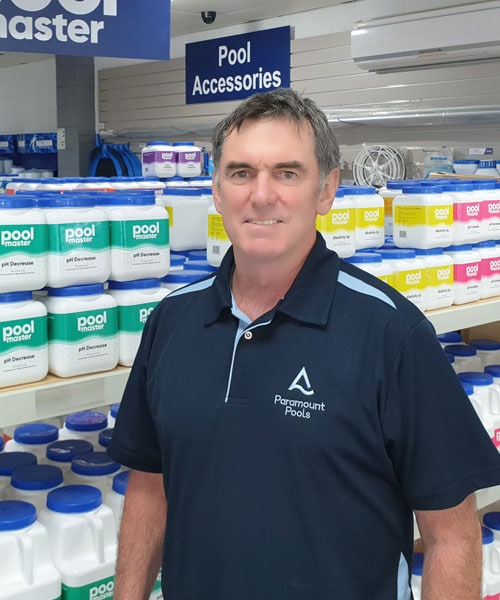 BRANCH MANAGER - LUNN AVENUE
Garry has an extensive background in retail management, customer service, and logistics in a variety of different industries. He has recently joined the Paramount Pools team and looks forward to helping new and existing customers with all their pool and spa needs.
Garry is keen rugby supporter and enjoys getting into sport himself, being an avid skier, weekend golfer and social tennis player.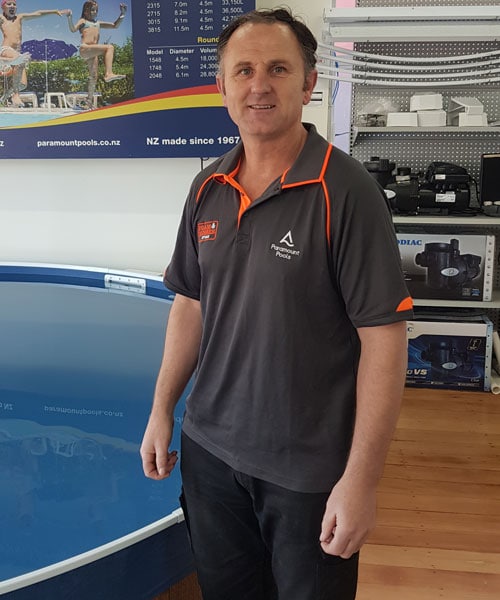 BRANCH MANAGER – PALMERSTON NORTH
Shane has come from accounting background and ran his own Pool Shop and Foam and Rubber Store before joining the Paramount Pools Team. Shane has a strong focus on Customer Service and achieving great results for his customers.
Shane loves to ride, doesn't matter it's his motorbike, snowboard or electric scooter as long as he cruising.
Also a keen sportsman, has played Gaelic Football and Inline Hockey for New Zealand and enjoys getting on the Ice for Masters Ice Hockey tournaments.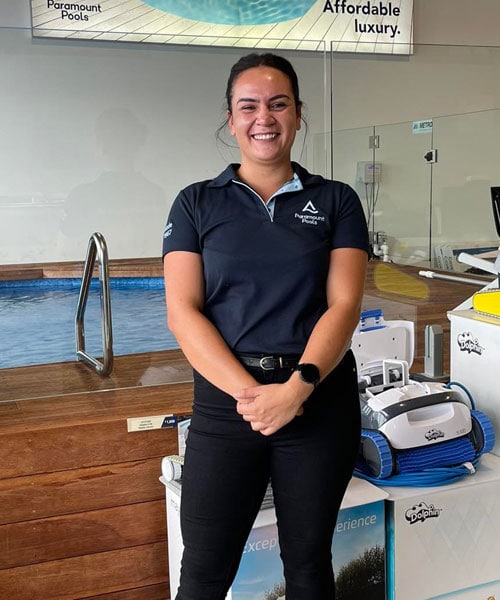 Mercedes joined the Paramount Team in February 2022 and has worked in a variety of relatable fields, attaining extensive skills in Customer Service & Administration. She comes strongly equipped in our industry having previously worked for a Pool Installing company and has the added benefit of knowledge within the landscaping industry as well.
In Mercedes spare time, she enjoys the outdoors, like fishing & camping and isn't afraid to get her hands dirty. But in her solitude, she will be found painting, drawing & anything artistically creative; or spending quality time with her family.
Hi I'm Taylor Jamieson,
I have grown up immersed in the pool industry with my Dad having a vital role in Paramount Pools. Over the years I have had a varied trade background including landscaping, Concrete pours, interior fit out, Home renovation and Painting. Giving me in in-depth knowledge of pool surrounds. Over the years I have been called in to help in assembling and repairing our pumps and equipment gaining a comfortable amount of knowledge around them.
I am now taking up a new challenge in the front facing retail space in the retail side of the business!
Out of work you can find me in the car scene or anything with an engine really. I just finished an automotive engineering course. I also spend time trying to salvage what remains of my social life with my friends.
Pat and his team are brilliant. They are always so helpful and have in-depth knowledge about anything to do with pools. We run a small commercial pool and need levels to be spot-on. They go the extra mile. I can't recommend them enough!
I bought a Sapphire Spa from Paramount Pools Tauranga. I am very happy with my Spa. An excellent product with great personal service and after sales support. They have an actual shop you can go to with any queries and they sell a full range of spa products.
We've just purchased our first spa pool and had such great information and customer service from Gary. Gary asked all the right questions, listened and made it so easy! Super happy and looking forward to relaxing and enjoying our new My Favourite. Thanks Gary and Brendon.
Cheers to Chris and his team for installing this new babysitting product (hehehe), and the husband plus the children have already enjoyed swimming in it already!!!
Would highly recommend Paramount Pools- very responsive and great customer service. We are so excited about using our new pool this summer. The pool looks amazing and basically got everything we need to be up and running! Great price too!